Well, with school starting just around the corner, I'm getting my act together. This week's Top Five @ Five is actually going to be on time! If you are a new follower, this is my favorite post of the week, it has the five most read posts of the week!
Top Five @ Five!
This is how I organize my read aloud books!
This one post has been read over 114,000 times!
I have taught Math and Science only for the last two years and I will be teaching them again this year. But there is nothing better than having your books organized and ready to read when you have an extra five or ten minutes. You know what it is like when everyone is hungry and lined up for lunch and the intercome says, "Please hold your classes for 15 minutes since the lunchroom is backed up."
NOOOOOOOOOOOOOOOOOOO!
and that's just my scream, not the students! :)
2. FREEBIE Time to the Hour and Half Hour Back to School Three Games in One Center!
This freebie is an entire packet, not just a sample. I made it for the new monthly link up at Classroom Freebies!
Classroom Freebies
It is free now and forever....ENJOY!
This terrific FREE packet is from my friend Michelle at Teach123. I wish I had seen this when my 15 year old son was in first grade. It would be wonderful to use in the car as well as the classroom!
4. Daily Five Organizational Bookmarks!
Some years your students need a little more guidance at center time than other years!
5. Organizing Your Student's Work for the Week!
Sort everything by "DAYS" on Friday, you'll be happy and ready to go first thing Monday!
Here are two of my new Math Center signs if you missed it last week. Just click here to go to the post!
I have two new sponsors this week if you wouldn't mind heading over there and checking them out!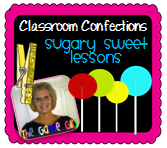 Have a great weekend Friends!
Here are some of the week's great offers if you missed them the first time!